Full carbon fibre self adjusting boarding stairs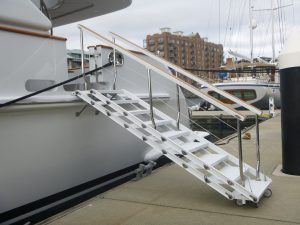 Hi Mark,
Just a note to say well done and thanks for a great job on delivering the stairs to the specified brief.
We had our first boarding and disembarkation of 50 persons on the weekend and we have another 150 pax this coming this weekend.
They look great, work well as designed, and are easy to set up and move about on the dock.
The width and incline ratio is perfect providing a professional, safe, sturdy and welcoming experience for our patrons.
More more than happy to give you guys a plug anytime should you guys wish to promote these stairs as an alternative to the various common alloy options.
Regards,

 EDWARD WOODMAN

CAPTAIN – MARINE CREW

M Y – THE STAR